Registered counsellor
About Me
I enjoy working with adults and adolescents using a variety of therapy models. My approach to therapy is flexible and based on the client's needs. I believe effective counselling and support begins and ends with the client's needs and goals as a top priority. I also believe counselling should be a collaborative process that can facilitate healing through a process of trust and authentic communication.
My family and I relocated to New Zealand in 2017 and happily decided Gisborne would be our new home. Prior to moving to New Zealand, I spent 6 years working for the South African Police's Psychological Service, assisting members of the service, their families and the public, with their various life challenges. The South African Police Services provided me with in-depth knowledge and experience in the treatment of trauma, depression, grief, anxiety, substance dependence and anger management.
Clients have internal and external resources that they can draw upon when constructing solutions to the challenges they face. I use different interventions at different times during the counselling process based on the client's journey.
We may use Brain Working Recursive Therapy (BWRT), which is a one-to-one talking therapy that gives you the tools to reprogram your emotional or habitual responses. It's an effective technique that can often dissolve mind-related problems far more quickly than you might think.
I remain open to my own growth and journey as a counsellor with the outlook that there is always room to learn more and develop further.I see clients at my office in Salisbury Road, Gisborne.
As a wife and mother of 2 boys, I love life and enjoy an active lifestyle. My personal stance to the all-allusive "success" in life, is balance. Too much of anything is not a good thing. I have a holistic view of life and believe true happiness comes from balance: physically, spiritually, psychologically and socially.
Qualifications and Registrations
BA Degree in Psychology (Unisa) South Africa
BA Honours Degree in Psychology (Unisa) South Africa
Registered with NZAC – Counsellor and Member
Registered BWRT practitioner and BBRS member
Registrations
The New Zealand Association of Counsellors (NZAC) / Te Roopu Kaiwhiriwhiri o Aotearoa is the national professional association that acts for and with counsellors to monitor and improve the service they provide.
Counsellors who are members of the New Zealand Association of Counsellors are professional and qualified.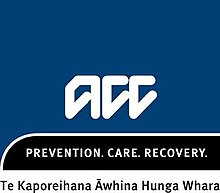 ACC provides help to everyone in New Zealand when they suffer an injury. Help is available for all New Zealand residents and visitors to the country.
They refer to claims following sexual abuse or assault as 'sensitive claims'.
ACC funds therapy for people who have experienced sexual abuse or assault.